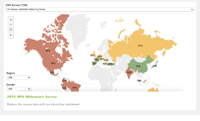 The Worldwide 2015 IRIS Millennials Study Is Now Live
March 3, 2016 — The IRIS Network, the world's largest network of research institutes, is proud to announce that results of the 2015 IRIS Millennials study are now live and available online at http://irismillennials.com/
The 2015 IRIS Millennials Survey sought to develop a unique understanding of the demographic cohort projected to overtake the baby boomers in 2015. IRIS asked millennials living in 23 countries for their outlook on the economy, their health and life in general. Along with a full study analysis of millennials living around the globe, the site provides interactive dashboards to explore and visualize data and findings like never before. Visitors are encouraged to dive deep, not only by exploring individual country summaries, but also by working with the dashboards to uncover new insights. http://irismillennials.com/
ABOUT THE IRIS NETWORK
IRIS is the world's largest network of research institutes. With over 30 offices around the world, the network enables researchers to perform better global research into international markets, consumers, businesses and societies. http://www.irisnetwork.org/
For questions or comments regarding the 2015 IRIS Millennials Study, contact:
John Crockett VP, Digital Innovations and Data Management – Environics Research

John.Crockett@environics.ca 416.278.3042
---

N-Dynamic China announce office relocation in Beijing to provide better client experience
In order to provide a more comfortable and convenient experience, N-Dynamic has moved its Beijing office to Prime Tower recently following its Shanghai office upgrade. Prime Tower is located in the central business district of Chaoyang District with only about 30 minutes' drive to the Capital International Airport. Adjacent to many famous commercial buildings and government agencies, Prime Tower is surrounded by various supporting facilities such as hotels, shopping malls, banks and restaurants. The new office provides more comfortable focus group facilities and high speed internet connection to meet the needs of international market research projects.
Intervista launches cXplore, a customer experience research & co-creation platform
CXplore ist an innovative solution developed jointly by Swiss IRIS Partner intervista and their partner poolpilots. CXplore captures customer experiences in their relevant context. Customers motivations and needs will be identified and also allows customers to participate in the product development process. www.cxplore.com

IRIS spring meeting in Cancun – April 2015
Members of the IRIS network will meet in Cancun this April. Mexican IRIS Partner LEXIA Insights Solutions is responsible for the organization of this major event. As every year it will be a great opportunity for members to network, share and discuss new approaches and trends in marketing studies.

I'm Research opens NEW Test Studio in Amsterdam
I'm Research has opened a new test studio in the centre of Amsterdam, suitable for Product and Concept Tests; they are the first agency with a test location in the real center of Amsterdam.
Situated in close proximity of both residential areas and shopping areas, they can reach a broad variety of Dutch consumers.
Whether panel based pre-recruiment or street recruitment is required, for all options we offer the most cost effective solution to your research demands.
Vocatus: New Office in Cologne
The German IRIS partner Vocatus, headquartered in Munich, has opened a new office in Cologne. This allows an even more personal contact to its customers in the booming Rhein-Main region.
IRIS meeting in Nice - September 2014
Members of the IRIS network met in Nice early September. As the French representative, Future Thinking was responsible for the organization of this major event. Indeed, it was an opportunity for members to network, share and discuss new approaches and trends in marketing studies.
Stéphane Marder, President of FTF, tells us about the highlights of this event in this interview.
Behaviour & Attitudes wins two significant contracts
B&A was selected to take over fieldwork on the TILDA contract, the Irish Longitudinal Study on Aging, which is principally funded by the Irish State, and a philanthropic organisation, The Atlantic Philantropies, and run by Trinity College Dublin. It is the largest ever study on the health and wellbeing of over fifties in Ireland, and involves longitudinal interviews, and medical checks upon older adults every second year. Its output is used to determine national policy on older people.
B&A has also been selected by TNS in Brussells to handle Eurobarometer fieldwork in Ireland. Both studies involve large scale face-to-face fieldwork and detailed internal and external oversight of fieldwork quality, data handling and training procedures.
---

Working with IRIS
IRIS (International Research Institutes) is the largest association of independent market research agencies in the world, with 1,500 employees and a yearly sales volume of over 170 Mil. €.
With local offices in more than 30 countries IRIS is truly local and yet truly global at the same time, covering 84% of the global economic power and 63% of the world population. It offers a true alternative to the massive research conglomerates, by giving its clients access to local experts and maintaining tailor-made research solutions.
Clients value especially that IRIS is able to rapidly assemble a multi-national team to conduct international projects at the highest quality standard while including local insights. Just have a look at our testimonials to understand why more than half of the TOP 50 stock market listed companies in the world choose to work with IRIS.
How to join IRIS
The members of IRIS are all among the leading independent research agencies in their respective country and have passed a stringent, personal application process and a company presentation in front of all IRIS members. Membership with IRIS is limited to one member per country. Apply here to become an IRIS member.
Read more archived IRIS articles here.