IRIS Office Indonesia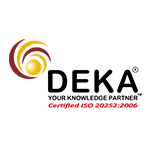 DEKA Marketing Research
Wolter Monginsidi No. 24A
Jakarta, 12170
Indonesia
Tel: +62 21-723-6901
Fax: +62 21-723-3373
Email: irma.malibari@deka-research.co.id
Website: http://www.deka-research.co.id
Contact Information
Irma Malibari, managing director and founder, has been working for 26 years in Marketing and Social Research, with experience on both the client and agency site. In 1993 she founded DEKA Marketing Research, and held the function of Managing Director till now.
Today she successfully leads DEKA Marketing Research as the leading independent marketing research company in Indonesia Irma is also the:
• Country Representative of ESOMAR in Indonesia
• Founder of the Indonesian Marketing Research Association
Company Information
DEKA Marketing Research is a leading independent full-service marketing research agency in Indonesia. What makes us different are:
• DEKA designs individually adapted methodologies to meet increasingly complex marketing problems, based on DEKA tools and oriented to consulting
• Our in-depth knowledge and understanding of the Indonesian Market, culture psyche and consumers
• Strong field force set up with experienced supervision and tight quality control
• Local knowledge, International expertise, has a combined 50 years of client side experience
• Flexible and fast response time
• Have 33 researcher and 900 employees (field, DP, support staff)
• Have 3 offices in Jakarta (Main Office, Field Office and DP Office) ; 4 branch offices in 4 big cities ; and 17 representative offices nation wide • Over 800 interviewers with full national coverage
• Experienced in qualitative and qualitative project, work in urban as well as rural areas
Quantitative:
• Have done many large studies (National wide, big sample over 1000 respondents, urban and rural)
• Conducted 185 ad-hoc projects and 29 tracking projects in 2009
• 66% of the researches is F2F/D2D and the other 34% divided into CLT 19% and Phone Interview 15%
Qualitative:
• FGD, IDI and Ethnography / Home Observation o Conducted 128 projects in 2009
• Quality control o Field: witness (15%), recheck (15%) o Data processing: Completeness & Consistency (100%), Back Check coding by Coders (15%), Verify key punch of data (25%), computerized data cleaning by Programmer (100%)
• In-house EDP department : QPSMR, Survey craft, SPSS, Lime survey (CATI, CAPI & Online survey)
Our facilities:

Quantitative
• 2 venues for central location test
• 105 telephone stations for conducting telephone interviews for tracking studies and other ad-hoc surveys.
Qualitative
We have our own in-house facilities for Focus Group Discussions, which include three actual group rooms, with viewing room, full audio-visual facilities, together with the needed equipment if simultaneous translations are required.

Member of ESOMAR, Marketing Research Association (MRA), Qualitative Research Consultants Association (QRCA), Indonesian Marketing Research Association (PERPI) and Indonesian Marketing Association (IMA)